Texas Constitutional Carry Class -FREE
Constitutional Carry does not mean you can carry a firearm in all public locations and in fact, it is a felony if charged with unlawfully carrying in a prohibited public location. This class teaches you who can legally carry under Constitutional Carry, what weapons are subject to Constitutional Carry, how you must carry under Constitutional Carry, what conduct is prohibited, places off-limits for Constitutional Carry, trespass notice requirements, prohibitive signs you must watch for, brandishing your firearm, encounters with law enforcement officers, reciprocity with other states, and why it is still wise to obtain a License to Carry.
Texas does not require you to take any class to learn the law relating to the new Constitutional Carry statutes that took effect September 1, 2021. This class is intended to be a public awareness class to educate attendees as to the laws relating to constitutional carry so that you don't wind up violating the law and being charged with a felony because you do not know the law.  Our instructors are approved LTC instructors through US Law Shield to present their self defense coverage program and can sign you up for defense protection coverage involving the use of any defensive weapon.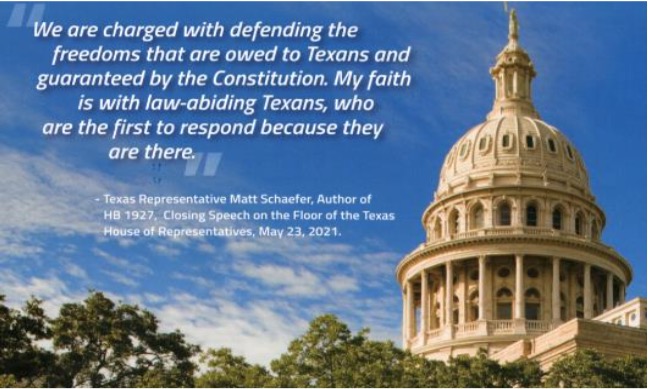 CLASS DATE
This is a free community service class & if you have a group of ten or more we will be happy to conduct the seminar at most locations in North Harris County and South Montgomery County.  Smaller groups require a $150 fee to teach the class as a US Law Shield Representative would not be assisting with a smaller class.
Registration
You must call to coordinate a private group class at least two weeks in advance of a desired date.  You must be within six months of attaining the age of 21 or 18 or older if active military to take this class.
Please click here to review our full registration policies and details.  A registration policy exception for this class is there are no refunds issued if you do not show up for this class.
Looking for a Texas Constitutional Carry Class in The Woodlands, Conroe, Spring, Montgomery, Tomball, or greater Houston area? We're glad you found us! Give Handgun Skills a call today 281-645-6290.