LTC Class (formerly CHL) – $80.00
This is the State of Texas required class to qualify you for a License to Carry a concealed handgun or the open carry of a handgun in public.  It includes four to six hours of mandatory instruction on handgun use, laws that relate to weapons and the use of deadly force, non-violent dispute resolution, proper storage practices of your guns, a written examination, and shooting proficiency qualification.  Our classes are limited to ten students or less to provide a better learning experience and we provide a training reference manual.
Texas Handgun Statutes

Texas Penal Code
Handgun Safety
Retention Holsters
Non-violent Dispute Resolution
Proper Storage Practices
Shooting Qualification
Written Examination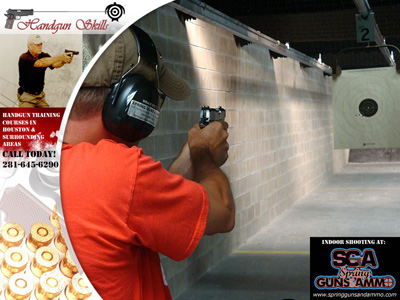 CLASS DATES
We only teach private group classes.
Call us to coordinate a date
for a group of 3 or more students.

The class will be held at Thunder Gun Range and shooting proficiency will be conducted first, followed by the minimum 4 hours classroom study. After that  students must pass a twenty five question written examination.  Shooting proficiency qualification includes firing 20 shots from 3 yards, 20 shots from 7 yards, and 10 shots from 15 yards at a B-27 target.  Shooting is timed with either two or three seconds allowed per shot, depending on the distance from the target.  This is not a class to teach you how to shoot and the state expects you to be proficient with a handgun prior to taking this class.  If you need basic instruction and practice before taking the LTC Class you can call or email to set up private instruction or sign up for the NRA Basics of Pistol Shooting Class that is recognized nationwide.
Students can qualify with either a revolver or semi-automatic pistol with a minimum caliber of .22 Long Rifle.   Rental guns will be available through the range for a rental fee of $25. You will need 50 rounds of ammunition for the shooting proficiency qualification and it can be purchased at the range or bring your own factory loaded full metal jacket ammunition. You also need ear plugs or over the ear protection, eye protection can be prescription glasses of safety glasses, and both can be purchased at the range if you do not have them.
$80.00Add to cart
Registration
You must call to coordinate a group class at least two weeks in advance of a desired date.
You must be within six months of attaining the age of 21 to take this class.
Pre-Payment with your private group class reservation is required.  If you cancel the class more than 48 hours prior to the scheduled start time of a class a $40 per student cancellation fee will be deducted from your refund to cover our advance administrative costs.  Cancellations within 48 hours of a class or any registered student not showing up for a class are subject to forfeiture of their pre-payment.  You can add students any time after registering as long as the class size is ten or less.
Please click here to review our full registration policies and details.
Looking for a Basic Pistol Shooting Class in The Woodlands, Conroe, Spring, Montgomery, Tomball, or greater Houston area? We're glad you found us! Give Handgun Skills a call today 281-645-6290.